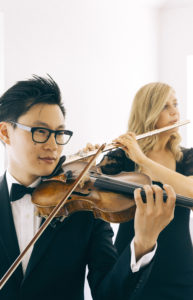 As a string quartet, naturally we play a lot of "classical" music – Bach, Mozart, Handel – the famous composers of the past whose music everyone has come to know and love. While the classical choice is very popular for weddings, four strings has a wide range of repertoire which encompasses music from the 1600s until the present day.
Browse the lists below, and click on the play buttons to hear our quartet playing.
If you have a special request for a song or piece of music which isn't on our list, please email us. We'll do our best to help you!
If you'd like to hear a piece of music we haven't yet recorded, a quick search on youtube.com will give you an idea of what it sounds like.
Processional (entrance of the bride)

Pachelbel - Canon in D
Handel - Entrance for the Queen of Sheba
Wagner - Wedding March

Signing of the register

Bach - Air on the G string
http://www.fourstringsquartet.com.au/wp-content/uploads/2015/03/BachAironaG-String.mp3
Bach - Jesu Joy of Man's Desiring
Schubert - Ave Maria

Recessional (exit)

Handel - La Rejouissance
Mendelssohn - Wedding March
Handel - Entrance for the Queen of Sheba
Vivaldi - Spring (first movement)
Clarke - Trumpet Voluntary
Mozart - Eine Kleine Nachtmusik (Allegro)

Before and after the ceremony

Bach - Brandenburg Concerto no. 3 (first movement)
Bach - Brandenburg Concerto no. 3 (third movement)
Handel - Water Music: Alla Hornpipe
Albeniz

Tango in D

Aznavour

She

Ballard

Mister Sandman

Barry

Somewhere in Time

Bratton

The Teddy Bears' Picnic

Cohen

Hallelujah

Coldplay

Clocks

Cooke

The Sunshine of Your Smile

Dido

Thank You

Ellington

It Don't Mean a Thing (If It Ain't Got That Swing)
Don't Get Around Much Anymore

English

Six Ribbons

Esposito

Wedding Song

Fats Waller

Ain't Misbehavin'

Garner

Misty

Gershwin

Fascinatin' Rhythm
Love is Here to Stay
Summertime

Gray

Please Forgive Me

Hunters and Collectors

Throw Your Arms Around Me

Howard

Fly Me to the Moon

Jobim

The Girl from Ipanema

Kaempfert

Strangers in the Night

Kern

Smoke Gets in Your Eyes

MacDowell

To a Wild Rose

McBroom

The Rose
http://www.fourstringsquartet.com.au/wp-content/uploads/2015/03/The-Rose-Warm-Conncert-Hall.mp3

McTell

Streets of London

Led Zeppelin

Stairway to Heaven

Lloyd

Amazing

Lloyd Webber

Memory

Movie/musical/TV themes

Big Spender from "Sweet Charity"
Cavatina from "The Deer Hunter"
Gabriel's Oboe from "The Mission"
http://www.fourstringsquartet.com.au/wp-content/uploads/2015/03/Gabriels-Oboe-Chamber-Recital-Hall.mp3
Kissing You from "Romeo and Juliet"
Misirlou from "Pulp Fiction"
Moon River from "Breakfast at Tiffany's"
Speak Softly Love from "The Godfather"
Theme from "Chocolat"
Theme from "E.T."
Them from "Ice Castles"
Theme from "New York, New York"
Theme from "Amelie"
Theme from "Fawlty Towers"
Theme from Star Wars"
The Pink Panther
Tonight from "West Side Story"

Piazzolla

Libertango
Oblivion

Ryden

Tango no. 1
Tango no. 3
Tango no. 4
Tango no. 6

Sartori

Con Te Partiro (Time to Say Goodbye)

The Beatles

Eleanor Rigby
Get Back
Hey Jude
When I'm 64
Yesterday

The Carpenters

We've Only Just Begun

The Verve

Bittersweet Symphony

U2

All I Want is You
Beautiful Day
With or Without You

Warren

At Last

Williamson

The Rainbow Connection
We also have a collection of Irish, Scottish, and English folk music arranged for quartet. For Christmas performances, we have traditional carols from around the world, lesser-known Christmas works, as well as Australian carols and all the popular Christmas songs. If you would like to view these lists, please contact us.