Why should we hire a string quartet?
A live string quartet adds real atmosphere to your event without stealing the show. CD recordings really can't compare to the sound of live music.
Can we request particular pieces?
Of course. For weddings, requests are usually made for the processional (entrance of the bride), signing of the register, and recessional (exit). Have a look at our repertoire list to choose the pieces you would like performed. If you would like a piece that is not on our list, we are often able to arrange it for a fee. Please email us to discuss your request.
Can the quartet attend the rehearsal for wedding ceremonies?
Four Strings musicians have a lot of experience in performing for weddings, so attendance at rehearsal ceremonies is not usually necessary. The quartet will arrive at the venue 15 minutes prior to performance, and will confirm details and make appropriate arrangements with the priest or celebrant. If you have special requirements and would like our attendance at your rehearsal, this can be arranged at our standard rates.
What if the bride is late?
Brides are often late, but this does not always affect the finishing time, as most wedding ceremonies only last 30-45 minutes. However, if the ceremony extends beyond the booking time, additional payment at our standard rate is required. Talk to your priest or celebrant about how long the ceremony is likely to take. A Catholic Nuptial Mass, for example, is longer than most ceremonies, and usually requires a longer booking time.
Does Four Strings play only at weddings?
No. Four Strings musicians have performed at fundraising events, engagement parties, wedding anniversaries, funerals, birthdays, Christmas parties, corporate events, formal dinners, concerts, and we've even provided background dinner music for Andre Rieu's VIP concert-goers at Suncorp Stadium!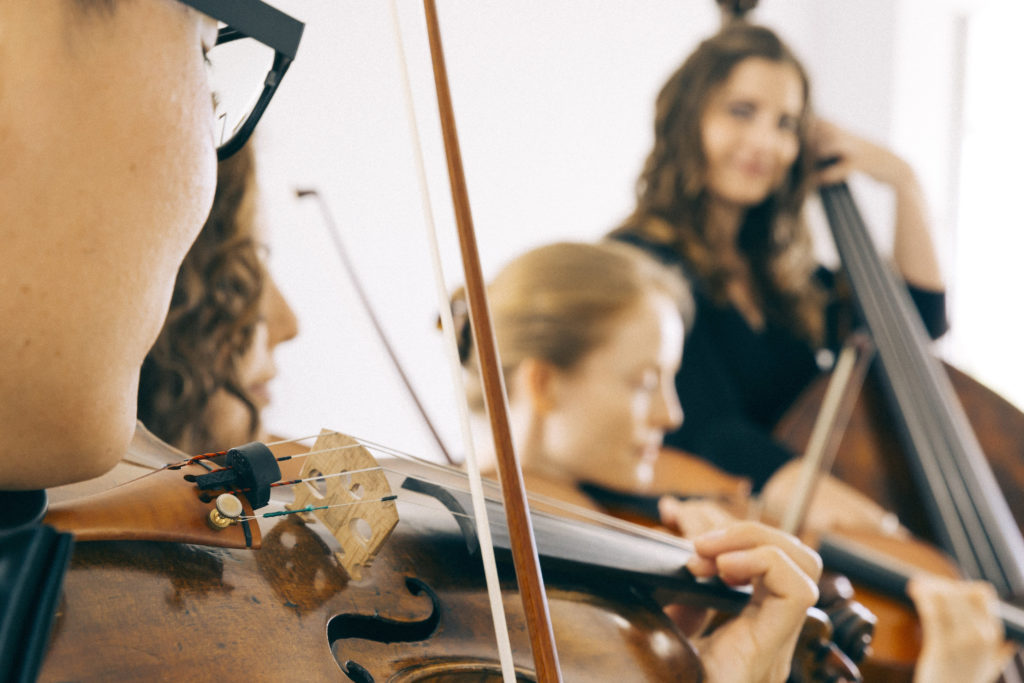 What is the difference between a string trio and string quartet?
A quartet consists of two violins, a viola, and a cello/bass, while a trio comprises one violin, one viola, and a cello/bass. While we do offer trios, the overall sound is less full and the harmonies less complete. Generally, we recommend a quartet as the quartet repertoire is what people have come to know and love, however, over the years we have also performed very successfully as a trio.
What do you wear?
In general, we wear elegant black. If you would prefer a different dress code, please let us know – we are happy to accommodate.
Do we need to provide anything?
Yes. The quartet will need four armless chairs, and adequate lighting (either natural or artificial). We always require cover when playing outdoors: both rain and sun damage our valuable instruments. As long as there is no rain, a large, shady tree is perfect. The quartet needs a space measuring approximately 3m x 5m to play in.
Does the quartet play for the entire time they are booked?
The musicians need scheduled breaks if booked for longer than an hour. This does not apply to wedding ceremonies, as the quartet does not play for the whole ceremony. For bookings over an hour, a 10-minute break will be taken every hour. If your event includes speeches, we are happy to schedule our breaks at the same time. If a booking is longer than 3 hours, we require meals and will take a 20-minute meal break.
Do you play only classical music?
While we have a wide selection of classical music, we can also play light pop, jazz, and contemporary music. Have a look at our repertoire list.
Can I have a flute in my string quartet?
Yes. If you would like a flute, we can substitute a flute for one of the violins.
How is payment made?
We accept payment by direct deposit, cash on the day, cheque or credit card*. Please note that domestic credit cards will incur an additional fee of 1.75% + 30¢. Foreign credit cards incur a fee of 2.9% + 30¢.